A senior member of the British House of Lords, Baroness Mary Goudie is a global advocate for the rights of women and children. She is on the board of Vital Voices, is involved in promoting gender equity with both the G8 and G20 and is also the chair of the Women Leaders' Council to Fight Human Trafficking at the United Nations.

3
Book by Humaira Awais Shahid with Kelly Horan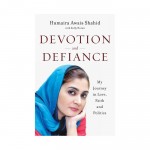 This autobiography is personal and political, as many women's stories are. Humaira Awais Shahid is a Pakistani activist, journalist, and mother who ultimately became a parliamentarian to effect positive change for women in her country. Humaira tells her story through frank and compelling prose, and her dedication to her country and her family are themes of the book. Her story reminds us that big changes, political, social, or economic, often hinge on small and personal matters; in Humaira's case, it was the support of her family.
With a first career as a university lecturer focusing on gender and literature, Humaira later began working for her husband's family newspaper conglomerate, editing the "women's section" of the paper. What started as a medium for gossip and fashion advice ultimately became her weapon. Humaira dedicated herself to gender equity, focusing her fight in two areas: the practice of using girls and women as collateral for loans, and acid crimes, where women thought to be unfaithful or disloyal are disfigured with acid. Humaira explains candidly that her education, her privileged upbringing, and the political contacts of her husband's family granted her elite status. Yet, while others in her situation might rest comfortably, Humaira used her social position, commitment, and tenacity to realize political change for women in her country not as fortunate as her. As a mother in a country where women's roles can be rigid and defined, Humaira depended on the unwavering moral, emotional, financial, and logistical help from her husband and family to effect the political and social change she aspired to achieve.
Taking her cause from journalism to politics, Humaira ran for office and was elected to the Punjab Assembly and later to the Pakistan Parliament. Having attained a position of influence, Humaira devoted herself to creating and moving forward legislation on acid crimes, defying those who told her it was impossible, a spirit that inspired the title of the book. She writes, "Some officials were openly dismissive of my effort, outright condescending. Why do you want to stress yourself out by trying to accomplish something that can never be achieved?" Flying in the face of critics, Humaira facilitated an inclusive social change process that led to the 2011 Acid Control and Acid Crime Prevention Act, which made acid attacks a crime against the state, providing Pakistani women victims unprecedented legal protection and providing legal guidance for the state to prosecute offenders.
While earlier in her career, Humaira sought to effect social and cultural change through academia and journalism, elected office became the most effective channel to create the impact she desired. She understood how to work across divides; she brought men and women from inside and outside of politics together in order to find support for the Acid Control and Acid Crime Prevention Act. Her commitment to the cause was unwavering, and she persevered throughout a life-altering tragedy in her personal life, the sudden death of her husband early in their marriage.
Humaira achieved success in passing the unique legislation because she was empowered by the support of her family to create change that would help others. While most Pakistani mothers are expected to remain home to care for their families, Humaira's devoted support system afforded her the freedom to pursue a career and achieve the legislative success that protects so many fellow women who cannot protect themselves. A universal truth is that personal support from those close to us can enable us to realize success that would otherwise be impossible.
As Humaira concedes herself, it is true that her station in life made it easier for her to become a journalist and activist, both low-paying positions, and to access the networks that became useful in her campaign and ultimately in parliament during her fight to pass her signature legislation. Nonetheless, Humaira's story is inspirational in that she used her privilege to facilitate change for all women. Her landmark legislation provides previously nonexistent guidance to the state on how to punish perpetrators of gender-based crimes as well as unprecedented protection for female victims. The act has changed the lives of all Pakistani women for the better and can be used as a model for parallel legislation in other countries, paving the way for continued political action on gender equality.